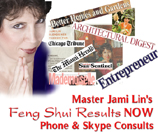 Satellite Imaging
Jami Lin experiences
YOUR home & conditions
with Google Maps

You'll learn lots of
Feng Shui
in your Consult too!

Feng Shui Master
Phone and Skype Feng Shui Consultation & Interior Design
95% of the same, result-oriented solutions you'd get from a site consultation

"if your House, was my HOME,
and your family was my family, and we were living here!"

Results & Benefits | What you get | Jami needs | Service Options
Fees | Testimonials |Referrals | Site Consults
Your Feng Shui consultation includes:
35+ years interior design experience
University of Florida: School of Architecture
25+ years Feng Shui consultant experience
most effective, result-oriented techniques from all Feng Shui Schools
Feng Shui RESULTS from convenience of your home!
Experience profound insights & accelerate Life-Potential!
Master Jami Lin improves current life situations
and provides decorative solutions to create YOUR personalized life-enhancing sanctuary that:

• Nurtures your Soul
• Increases Wealth
• Deepens Love
• Improves Health
• more Benefits? Please ENJOY videos!
Jami remedies your home or office and life through
a Personalized Feng Shui Bagua Map, and the most-effective and
25+ years of experience-tested, result-oriented techniques
combined from all Feng Shui Schools and over 35 years of design expertise.
IMPORTANT: There are over 2000 Personal Success Maps based upon time-tested and consistent mathematical formulas derived form Heaven and Earth Energy (the science of the natural forces).
ONLY ONE Bagua Map is specific to you and your home!
Jami Lin's Natural Law & Feng Shui Science:
Reveals your current life situations
Jami Lin's Intuition & Experience:
"Sees" your space in 3 Dimensions from reading your floor plan
(with her 30+ years of reading floor plans)

Prescribes how to reduce the unfavorable conditions and
enhance the good ones.

Important:
Every space has both GOOD Feng Shui & BAD Feng Shui!
Learn how energies change every year and every month!
Jami Lin's Design Expertise:
Provides Result-Oriented Decorative Solutions to maximize your Personal Success Map and helps you create a beautiful environment
with furniture placement, colors, art, and accessories...
using your existing items and/or in combination with your budget.
Interested in learning Feng Shui?
Phone, Skype & Site Consultations are excellent ways to learn!

Experience your personal Feng Shui from the inside of Master Jami Lin's experience as she explains the reasons for her solutions.
IMPORTANT Suggestion!
Get consultation BEFORE you decide on your NEW Space!
Please watch or read "Be Smart from the Start"
| | | |
| --- | --- | --- |
| | | |
Please advise Jami of any problems or objectives you may be having
and we'll focus on that too--even though she most likely
may see your challenges just by looking at your floor plan!
• Your consult will determine the best rooms and directions for you
and household or office members.

• Evaluations of current yearly & monthly energies and their Feng Shui
modifications to help reduce detrimental or
enhance influential time predictions

• Analysis of exterior & interior energy relationships

• Identification of architectural & layout considerations

• General furniture & accessories placement

• Color ideas and schemes for each room

• Evaluation of your life enhancements along with their decorative
and Energetic recommendations.

• Decorative & energetic life-aspirations enhancements.

Based upon your needs, your consultation may include:
• Personal or environmental Chi adjustments or clearings

• Specific furniture, accessory, and art placement

• Review of paint/fabrics, and furniture/accessories along with
specific placement ideas.

• Discuss any Chakra blockages and recommendations through
decorative Feng Shui Interior Design and aromatherapy.
ALL consultations include answering YOUR
decorative/Feng Shui questions
| | | |
| --- | --- | --- |
| | | |
What Jami needs to take good care
Mail or E-mail us proportioned floor plans (to scale is even better)

Photos if you'd like - not necessary
House facing compass direction (outside your home, stand with your back on front door, walk 3 steps forward, what is the compass direction of where your eyes are facing?) The compass-degree number is suggested for accuracy.

Did you move in before or after Feb 4, 2004?
If you moved in before Feb 4. 2004...
did you do major renovations after that date? If yes, what?
Birth data of family members

Location of who is sleeping where

Have a list of questions before scheduled phone/Skype appointment!
(I bet I answer them BEFORE you even ask!)
| | | |
| --- | --- | --- |
| | | |
Phone & Skype Consultations (about Skype)
If you have a FREE Skype account it is easy to talk to anywhere in the world without long-distance phone charges!
What's the difference between and Phone/Skype and Site consultation?
Jami's sensitive listening skills and intuition, makes communication intimate and personal as if she were with you in person. Even without being on-site, Jami "sees" your space in 3 dimensions through your floor plan and prescribes 95% of the same, result-oriented solutions that she would during a site consultation. The only thing she can't see are your specific colors and accessories...so send pictures!
| | | |
| --- | --- | --- |
| | | |
Jami Lin knows that there are Feng Shui "experts" who charge way more with much less knowledge and experience. She knows her fees are fair, accessible, and of the highest-beneficial valuable as she approaches everyone's sacred space as "if it were her home." Jami's prices have remained the same for more than 10 years.
Phone Consultations are billed $153.00 p/hour in 15 minute increments on your Visa or MasterCard. Preview time will be added to fees depending on project complexity (average 15-60 minutes), but it will minimize phone charges of which you are responsible (unless you want to Skype).

If you would like us to return photos, send (SASE envelope) with sufficient return postage.
Company policy: upon scheduling your consultation, 1 hour will be processed with your credit card as confirmation. Additional time will be processed upon end of consultation (if required.)
| | | |
| --- | --- | --- |
| | | |
$25 off your next phone consultation! (save referral coupons for FREE consult!)

To avoid confusion, please call us with your referral's name prior to their consultation. Your friend must say that they were referred by you (with your name). Upon the completion of your friend's consultation, we will happily email you a $25 coupon toward your next consult.